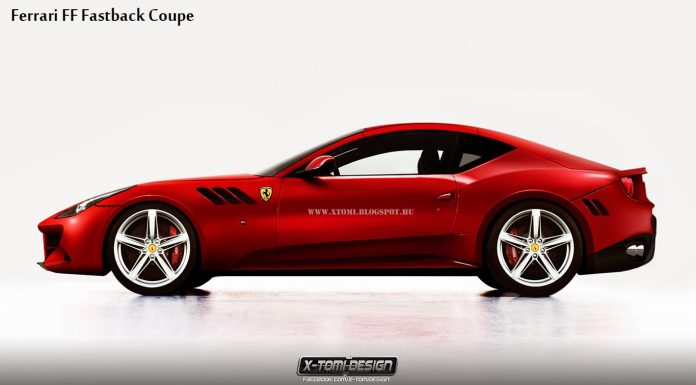 Recently, reports emerged suggesting that a Ferrari FF Coupe is set to arrive later this year or early next year. While we still remain somewhat sceptical about the likelihood of such a car coming to fruition, the following rendering courtesy of X-Tomi Design does give us a glimpse of how it could look.
Obviously, the most significant visual change between the current FF and the FF Coupe would be the redesigned roof and tail with it ditching the shooting brake design for a more conventional coupe roofline. Additionally, the Ferrari FF Coupe will reportedly receive a modified front fascia along with new side air vents. Because the Ferrari FF Coupe will be identical beneath the skin to the normal FF, it'll be a real performer.
As it stands, the Ferrari FF is fitted with a 6.3-liter V12 engine delivering an impressive 651 hp at 8,000 rpm and 504 lb-ft of torque at 6,000 rpm. This engine is mounted to a 7-speed double-clutch semi-automatic transmission driving all four wheels. The all-wheel drive system, dubbed 4RM, is around 50 per cent lighter than a normal all-wheel drive system and it provides power intelligently to each wheel as necessary.
With all this being said, Ferrari will have to be extremely careful not to step on the shoes of the F12 Berlinetta because from a visual perspective at least, it is essentially an FF Coupe. However, with less power and inevitably a plusher interior and softer suspension, the Ferrari FF Coupe will reportedly rival the Aston Martin Vanquish, Bentley Continental GT and possibly even the Rolls-Royce Wraith.
[Via X-Tomi Design]