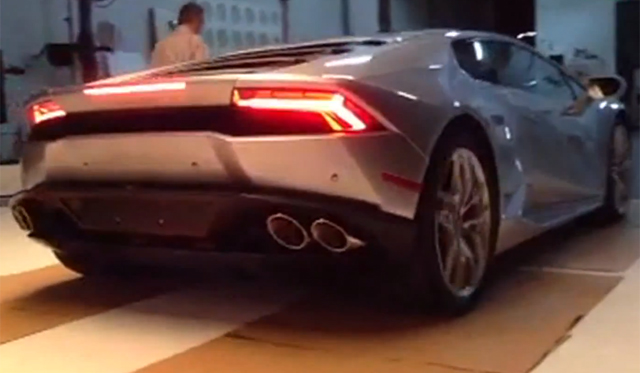 Just a few hours after the very first official images of the brand new 2015 Lamborghini Huracan LP610-4 leaked online, the very first video of the car has appeared online thanks to Auto Bild! This is also the first time we have seen the Huracan in any colour other than yellow with this example finished in a nice shade of silver.
[youtube]http://www.youtube.com/watch?v=xb7NnSj5qxw[/youtube]
The following video includes a simple start up of the new Italian supercar as well as a small drive presumably inside Lamborghini's factory or in preparation for the official online debut expected within the next day. Wherever it was filmed, one thing is clear; the Lamborghini Huracan sounds just as good as we had hoped!
While it may simply feature a re-engineered and updated version of the Gallardo's outgoing 5.2-liter V10 engine, the Huracan produces a dramatically different exhaust note yet one which still sends shivers down your spine and sounds unquestionably like a Lamborghini. We can't wait to see the first videos of the new Huracan at full throttle very soon!
From a visual standpoint, the new Lamborghini Huracan looks identical to renderings released in recent months. As a result, it shares many of its styling traits with the Aventador albeit on a smaller scale. Inside, the cabin appears to be based around the Aventadors with the prominent center console that splits the cabin down the middle. Additionally, it features a similar LCD display acting as the gauge cluster. Rumour has it that the car will be branded the LP610-4, suggesting that the engine under the hood will push out 610 hp.