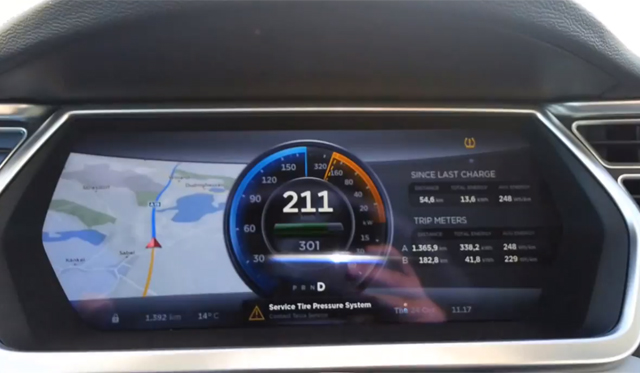 Just how fast is the Tesla Model S? Well, in the past we've seen the electric sedan outperform the mighty BMW M5 in a drag race but as with all electric road-cars, top speed is extremely limited as the car features just one gear. However, one brave German owner recently took their brand new Tesla Model S out on the Autobahn to explore its top speed capabilities.
[youtube]http://www.youtube.com/watch?v=p0_0cnfHCvg[/youtube]
This owner managed to hit an impressive top speed of 212 km/h or 130 mph along a long straight on the unrestricted highway network. While such a top speed may not seem that impressive with many European performance cars being electronically limited to 155 mph, for an electric sedan it is quite impressive and if Elon Musk's recent promise comes to fruition, then that top speed will become even higher.
While speaking at a conference at the Tesla service center in Munich recently, the company's founder and CEO Elon Musk revealed that a tuned variant of the Tesla Model S will be available for German buyers. He said, "If you're someone who likes to ride at the top speed on the autobahn, then we will tune the car. We'll do a custom tune of the car to make it feel really great at top speed."
While travelling at higher speeds on the German autobahn will inevitably lead to a decreased range for the impressive Tesla Model S, the company is currently in the midst of installing six supercharger stations across Germany. By the end of 2014, all of Germany will be within 200 miles of a 135kw charging station in a similar rollout to Norway.