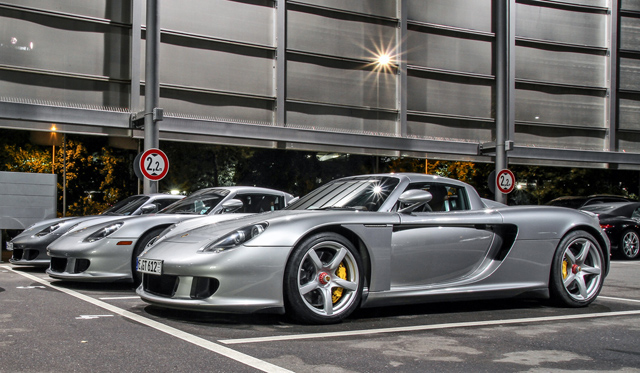 Zuffenhausen is lovely place for Porsche enthusiasts to visit. The biggest draw by far is the massive Porsche museum, a big showroom where the parking places are full of Porsche's! On a recent visit, we spotted five Porsche Carrera GT's.
These five pieces of Porsche automotive art were part of a group of twelve cars which rolled through just a few hours before my visit. The cars were just ending a tour which started somewhere in Italy.
The Porsche Carrera GT was manufactured between 2004–2007 and final count of car was 1270. The Carrera GT is mid-engine sports car powered by a 5.7 litre V10 engine producing 612 hp. Official figures claim that the Porsche Carrera GT will accelerate from 0 to 100 km/h in 3.9 seconds and has a maximum speed of 330 km/h.
At this moment Porsche offers a new successor, a hybrid super car called the Porsche 918 Spyder.
We shot a video as a bonus for you!
[youtube]http://www.youtube.com/watch?v=rQSai33LSig&feature=c4-overview&list=UURQpt0t-KBscGsUXYQseuxA[/youtube]