Following the recent release of the Lexus RC Coupe, automotive rendered Theophilus Chin decided to create a couple renderings of a Lexus RC Convertible. While Lexus has yet to reveal if the Lexus RC will ever be available as a convertible but with its main rival, the BMW 4-Series, available as a convertible, it is likely Lexus will venture down the same path.
The Lexus RC Coupé is set to go on display at the Tokyo Motor Show later this month. Two models will be released with the Lexus RC 350 debuting with its 3.5-liter V6 engine and the Lexus RC 300h hybrid fitted with a 2.5-liter engine. Performance details haven't yet been released so we won't know everything until 20 November 2013 when Lexus will hold its official press conference and reveal a complete technical spec.
The design is pretty distinctive with Lexus' widest and lowest spindle grill to date with a set of triangular headlamps to frame it. The contoured lines make it look pretty unique. Lexus have perfected their painting technique, covering the Lexus RC Coupé in multiple layers of clear and deeper-colourer coating.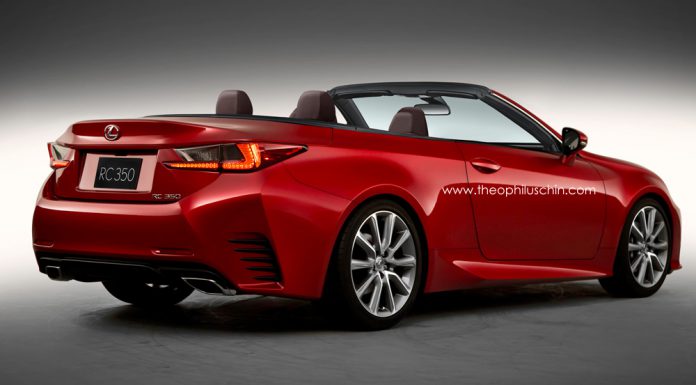 Customers will get the chance to spec either 10-spoke 19-inch wheel or a muscular five-spoke 18-inch version. Inside, the Lexus RC Coupé gets a lighting package with illumination that reflects upwards, rather than downwards. Trims will include a new tone called Clove with genuine shimamoku wood highlights.
[Via Theophilus Chin]