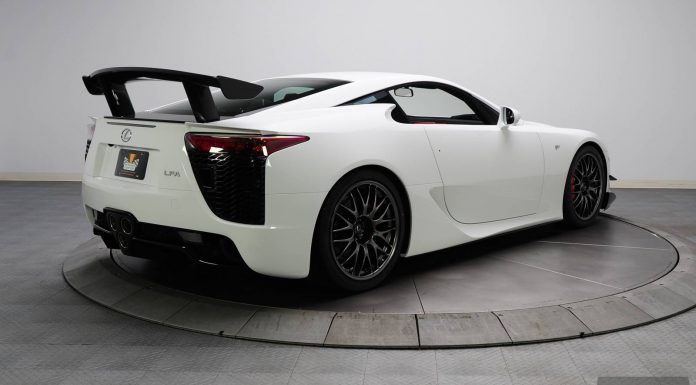 A rare 2012 Lexus LFA Nurburgring Edition was recently sold off during the RK Motors Collector Car Auctions in Charlotte. When the final hammer dropped, the car sold for an impressive $505,000.
This 2012 Lexus LFA Nurburgring Edition which sold for $505k is finished in a stunning shade of white unlike most Nurburgring Edition's which feature the outlandish orange paint scheme. The car has covered just 366 miles and originally went under the hammer with no reserve. Additionally, this LFA was built for NASCAR Team Owner Rob Kauffman.
Powering the Lexus LFA Nurburgring Edition is a tuned version of the 4.8-liter V10 from the standard car with it now featuring 563hp. It also produces an exhaust note almost unmatched by any other supercar and is definitely loud enough to capture the attention of even diehard Formula One fanatics!
Although it is a couple of years old, the Lexus LFA Nurburgring Edition remains one of the fastest supercars to have ever lapped the infamous Nurburgring circuit. After setting a time of 7 minutes 14 seconds in late-2011, the Lexus LFA Nurburgring Edition cemented its position as the ultimate variant of the Lexus LFA as well as being one of the fastest road-legal cars to ever hit the track.
What's more, the car is one of the fastest, if not the fastest, road-legal car to have lapped 'Green Hell' without being fitted with high-performance competition tires such as the Pirelli P Zero Cora tires.