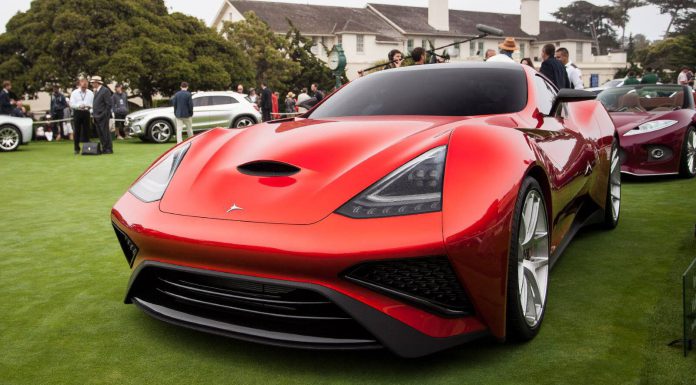 The Icona Vulcano is one of the surprise additions to the Pebble Beach 2013. It was first unveiled at the Shanghai Motor Show earlier in the year. The Icona Vulcano is an interesting design study. It blends features from a wide range of supercars. Its certainly a car that catches the eye. Our photographer, Philipp Lohmann, took a closer look and gathered some pictures!
Icona is a new-age Italian design firm. The car can be optioned with two different engines. The first and definitely most impressive powerplant is a front-mounted V12 engine mated with an electric engine helping to deliver a claimed 950hp. This version will be the road going version. The Icona Vulcano can then be fitted with a much smaller and less powerful V6 engine if you prefer to use it at the track.
Icona claims that the former can sprint to 62mph in less than 2 seconds while the racing version should hit 62mph in 2.9 seconds with its V6 engine powering the rear wheels while the two electric motors then power the front wheels. Both cars are then expected to hit a McLaren P1 and Lamborghini Aventador equaling top speed of 217mph.