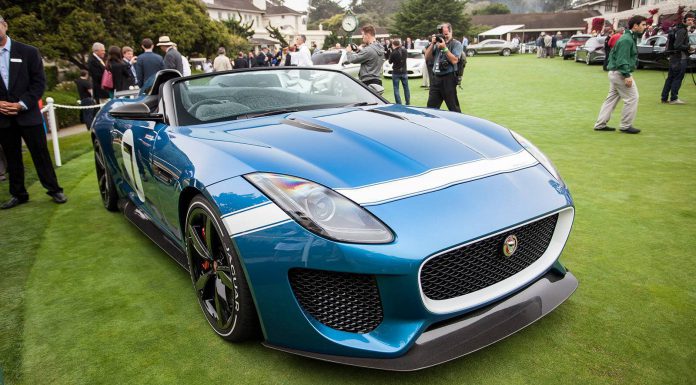 Jaguar have been displaying the Jaguar F-Type Project 7 again at Pebble Beach 2013. It first saw action at the Goodwood Festival of Speed 2013, Jaguar appear to have wiped away all signs of use so that it can be displayed static to a US crowd! Philipp Lohmann caught up with the British speedster on the Concept lawn!
The Jaguar F-Type Project 7 Speedster celebrates Jaguar's Le Mans history, as the name suggests, the British marque has taken the top title 7 times! To turn the regular Jaguar F-Type convertible into a true speedster, Jaguar removed the entire fabric roof and its lifting system and fitted the car with a low-slung windscreen, a new livery as well as a prominent rear buttress behind the driver's head which includes a rollover hoop.
Other design differences include a new carbon fiber front splitter, side skirts, a larger rear diffuser, 20-inch Blade forged-alloy wheels completed with carbon fiber accents, new bonnet vents, side mirrors, larger air intakes at the front as well as the prominent fixed rear spoiler with a 14-degree angle.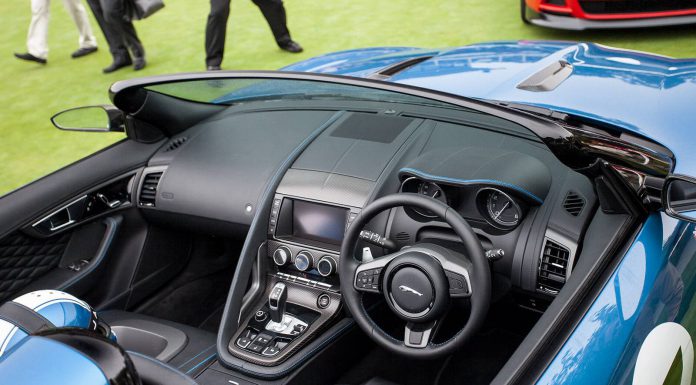 Under the hood, the Jaguar F-Type Project 7 Speedster utilises the same 5.0-liter supercharged V8 as the standard Jaguar F-Type V8 S. However, Jaguar engineers managed to increase horsepower by 54 ponies and 41lb-ft of torque bringing the total figure up to 542hp and 501lb-ft of torque. Consequently, the Project 7 can hit 60mph in just 4.1 seconds and a top speed of 186mph.