The Maserati Quattroporte Coast-to-Coast trip from New York to San Francisco made a stopover at the Bonneville Salt Flats in Utah. Last time we saw the Quattroporte in this trip was at the Pikes Peak Hill Climb in Colorado Springs, prior to the main event which took place at the end of June.
Just like all the other stopovers, this one was also important keeping in mind that this is "Bonneville Speedway", where speed legends practice their art, where speed records are broken and ultimately where the fastest cars build their titles! There are two major events held here annually; the "Speed Week" that takes place mid-August and the "World Finals" that take place early October.
The trip by Maserati comprises of a group of photographers and a journalist who have made stopovers at various locations. The car has been taken to extreme conditions; they drove through snow and cold weather but perfect for testing the I.C.E. (Increased Control Efficiency) mode, designed for extremely low grip conditions and excellent fuel economy.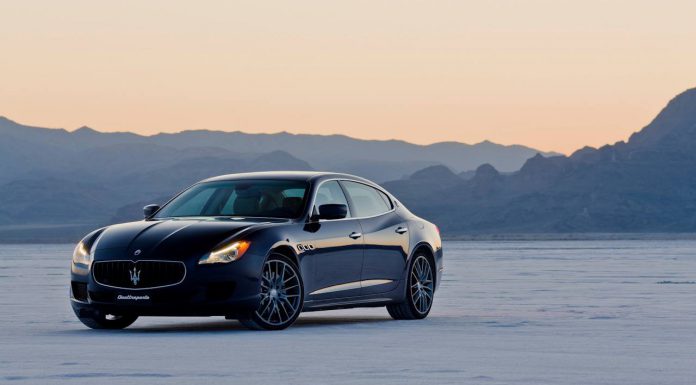 In their Coast-to-Coast trip, they are retracing on land the route followed at sea by Giovanni Soldini Pagina Ufficiale, and through this they experience the everchanging scenery from the Amish country to Pittsburgh, from Indianapolis to St. Louis through Chicago and from Kansas City to snowed Colorado Springs after crossing the Kansas great plains.
The new Quattroporte comes with a 3.8-litre V8 and a 3.0-litre V6 engine, both of which are twin turbocharged and mated to an 8-speed automatic transmission driving the rear wheels. The V6 engine develops 404hp and a maximum torque of 550Nm making a 0-100kp/h sprint in 4.9 seconds and a top speed of 285kp/h. The V8 produces 523hp and 710Nm of torque for a 0-100km/h time of 4.7 seconds and a top speed of 307km/h.