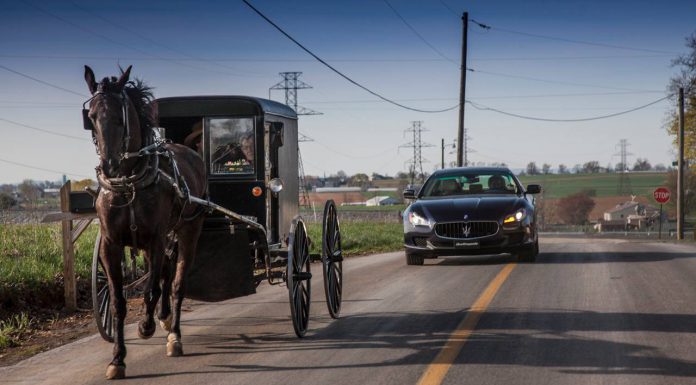 If there has to be an exciting thing about cars, road trips are part of it. It gets even Über exciting if the road trip involves a new car which is yet to be fully experienced by the public. That is exactly what Maserati are doing with the new Quattroporte, they sent out a journalist and a photographer on a trip from New York, heading for San Francisco.
From the photos, the navy blue Maserati Quattroporte appears on the roads of New Jersey, Manhattan and Brooklyn and also driving around Lancaster, Pennsylvania, home of a large Amish community. In one of the photos, the Quattroporte crosses one of the iconic steel bridges that lead to downtown Pittsburgh. The trip is dubbed US Coast to Coast.
They are retracing on land the route followed at sea by Giovanni Soldini Pagina Ufficiale, and through this they experience the everchanging scenery from the Amish country to Pittsburgh, from Indianapolis to St. Louis through Chicago and from Kansas City to snowed Colorado Springs after crossing the Kansas great plains.
Just a reminder, Maserati is offering the new Quattroporte with a 3.8-litre V8 and a 3.0-litre V6 engine, both of which are twin turbocharged and mated to an 8-speed automatic transmission driving the rear wheels. The V6 engine develops 404hp and a maximum torque of 550Nm making a 0-100kp/h sprint in 4.9 seconds and a top speed of 285kp/h. The V8 produces 523hp and 710Nm of torque for a 0-100km/h time of 4.7 seconds and a top speed of 307km/h.