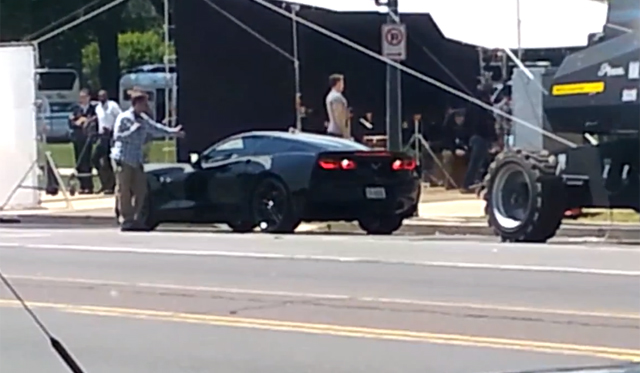 Customer deliveries of the updated 2014 Chevrolet Corvette Stingray have yet to begin and already the American supercar is preparing for its very first movie role.
A black 2014 Chevrolet Corvette Stingray was recently spotted on the set of the upcoming Marvel Comics-based movie "Captain America: The Winter Soldier".
Current reports predict that Captain America: The Winter Solider will pick up from where The Avengers left off with it set to feature the same two key stars as the previous Captain America film as well as The Avengers; Captain America played by Chris Evans and his sidekick Black Widow to be once again played by sexy Scarlett Johansson.
The video was filmed by Jason Vendervliet on Youtube at the National Mall in Washington DC with Jason claiming that Scarlett Johansson is actually the one behind the wheel of the 2014 Chevrolet Corvette Stingray.
Jason states that "The scene as it's supposed to play out is Scarlett Johansson pulling up in the Corvette, then Chris Evans walks up and gets into the car with her. In the clip you can't hear it, but he yelled "I can't remember how to open the door!" which is why he walks away laughing."
Captain America: The Winter Solider is set to hit cinema screens in 2014.