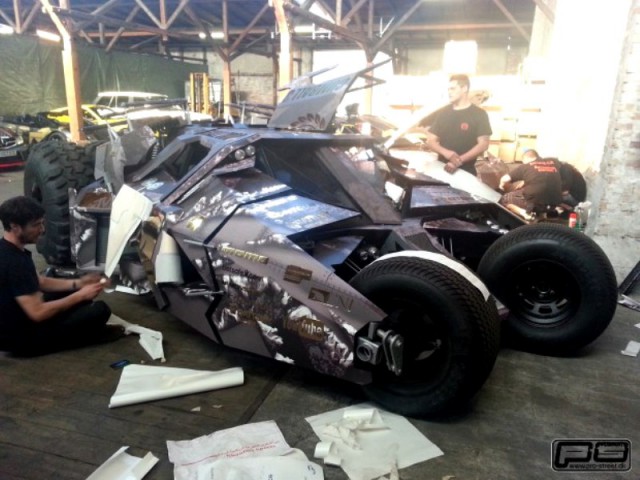 Gumball 3000 Rally is final here, the ultimate road trip for sports lovers involving 3000 miles of pure driving fun accompanied by exciting activities including parties and concerts which will be spearheaded by some of the world's best celebrities. Gumball has been known for its power to attract luxury sports cars and supercars. In that regard, we have a special gallery containing behind the scenes photos of the Gumball 3000 Cars, courtesy of Pro-Street.dk.
In the gallery, you get to see all the car wrappings going on, the teams with their different cars and much more. It's hard not to recognize your favorite team as each car is clearly unique. Team Galag's custom Batman Tumbler and bespoke TG1 supercar. To read comprehensively about the entire rally and the schedule, visit our earlier post here. To follow Gumball 3000 via Live Tweet Map, see instructions here!
The 100 cars will set off of their 3000 mile road trip to Monte Carlo the following day on May 19 which will be on a Sunday. Over the following 6-days the route includes overnight stops, parties, music concerts, car displays and checkpoints in Stockholm (Sweden), Helsinki (Finland), St.Petersburg (Russia), Tallinn (Estonia), Riga (Latvia), Vilnius (Lithuania), Warsaw (Poland) and Vienna (Austria) before crossing the finish line in Casino Square from 21:00 on the evening of Friday 24th May in Monte Carlo (Monaco).
Among the special appearances will be hip hop superstar EVE, Cypress Hill's DJ Muggs, rapper Bun B, 'Pimp My Ride' host Xzibit, skateboard legend Tony Hawk, MTVs Finish pranksters 'The Dudesons', Olympic skiers Jon Olsson and Jens Byggmark, MMA fighter Rubert Burneika and even TV stars.