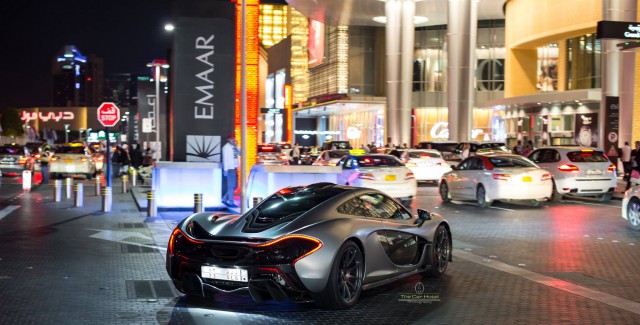 By now, it is widely known that Team Galag will use a McLaren P1 for this year's Gumball 3000 2014. Whilst there were a few delays with the team receiving their cars and some suggestion that the car was going to be offered for sale, it seems as though the car has now been delivered. It looks fantastic!
Gumball 3000 2013 saw Team Galag arrive in style with a Batman Tumbler replica and their Nissan GT-R based TG1 supercar. Whilst the Batman Tumble didn't manage to finish a single leg of the journey, the TG1 worked extremely well! The car was spotted recently in Dubai by car spotter TheCarHotel.
For Gumball 3000 2014, the satin McLaren P1 will be joined by a modified version of the Batman Tumbler as well as a classic Shelby Daytona. We drove the 3.8 litre V8 McLaren P1 recently and can confirm that it is the perfect companion for a 3000 mile road trip! With 903 hp and 978 Nm on tap, the Team Galag McLaren P1 is able to travel from 0 to 100 km/h (62 mph) in 2.8 seconds, 0 to 200 km/h (124 mph) in 6.8 seconds and 0 to 300 km/h (186 mph) in 16.5 seconds!