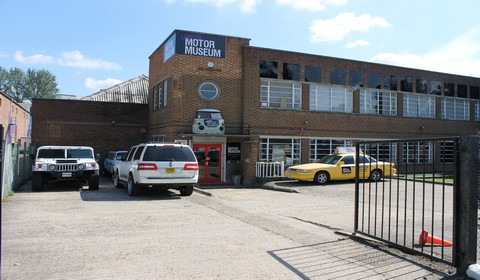 A couple of weeks ago we were invited down to visit to the London Motor Museum, in Hayes, on the outskirts of London for a look around their collection. The London Motor Museum houses a variety of cars from them 50's to present day from manufactures around the globe that you might not see everyday.
The collection starts off in the 50's with cars like the Chevrolet Corvette C1 and Ford Thunderbird to name a few of the cars that are rarely seen on this side of the Atlantic, as well as a couple of classic Mercedes and Rolls Royce models to keep the European style in place. The 60's is well represented as well with Camaro's and Firebirds giving the place some American muscle. The main car of this period in the collection is the mint Shelby Mustang GT500 'Eleanor, number 50, complete with authentication plaques, fire extinguisher and nitrous switch.
One of London Motor Museum's main draws is the various ex-TV and Film cars that they have in their collection that are still in working order. They have in their possession an original 1960's Batmobile, that can occasionally driving around London, as well as a 1989 Batmobile from Tim Burton's Batman. They recently took delivery of an original KIT signed by David Hasslehoff, though this is in need of some restoration work to get it back to the standard of the other cars in their collection.
In the area next to the movie cars is the West Coast lowriders collection, featuring a range of classic American sedan and convertible's that have been given the West Coast treatment of hydraulics, stand out paint work and a custom interior.
Aside from the cars on display, London Motor Museum is also the home of TKO. Their own in house customisation house, specialising in creating exactly what their clients request. TKO has customised a wide range of cars for a wide variety of clients. These include some of the biggest names in football, like Djibril Cisse and Emmanuel Adebayor, as well as providing cars for music video from some of the biggest artists in the world.
The Continental GT below is Cisse's latest car, resprayed in a matte camo green, with black rims and number 9's airbrushed on the wings of the car. While the Phantom Drophead below was re-upholstered by Rolls Royce at the request of a Client before another potential clients requested the 26 inch Asanti rims be added before hiring the car for two days.
Also taking centre stage in the museum and noticeable as soon as you walk into the cars, is the SSC Ultimate Aero. The Aero in question is the same Aero that was entered in the 2009 Gumball 300 Rally. Since completing the rally the car has only done a handful of miles.
Since our visit the guys at London Motor Museum have also added a white Gumpert Apollo to their collection! Stay tuned for more on that soon, for more info on the London Motor Museum, visit Facebook or their website