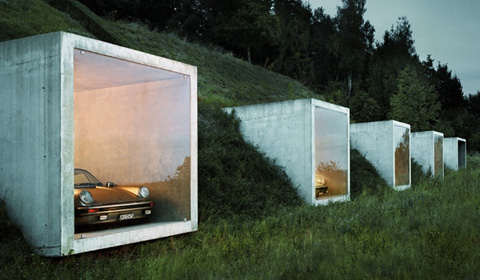 Architectural works are often perceived as cultural symbols and as works of art, and the same applies to some cars. So a great collection of cars deserves a great garage.
Swiss firm Peter Kunz Architektur has designed this great partially submerged garage located in Herdern, a Swiss municipality near the German border. The concrete cubes embedded into the side of a hill is the home of a Porsche collection.
Four Porsche's could be stored ‒ or displayed ‒ in one of the concrete cubes featuring full-height glazed panels. The fifth cube is left open and leads towards the minimalistic garage which offers space for eight cars. There is also the possibility to lit the cars with special mood lighting, which turns this garage into some sort of permanent Porsche exhibition.
[Via Jalopnik and Architzier]