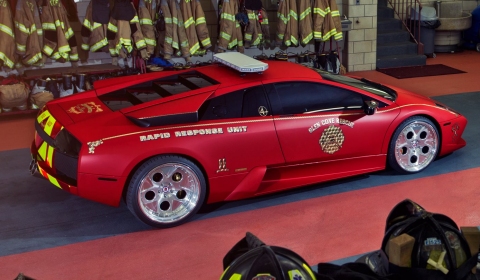 This is a special edition Lamborghini Murcielago owned by Martino Auto Concepts in Glen Cove, US. For promotional reasons, it dropped by at the start of the 2012 Gumball 3000 in New York yesterday where Tim aka Shmee150 filmed it.
The Glen Cove Fire Department (GCFD) Lamborghini Murcielago rides on HRE vintage series 454 wheels, received an unique matte red wrap and safety lights on the roof. The faces of the wheels are brushed and polished. The barrel is also polished and then everything is clear powder coated for ease of maintenance.
In the gallery below, you will see three pictures of the same Murielago made by Andrew Link at a local fire department.