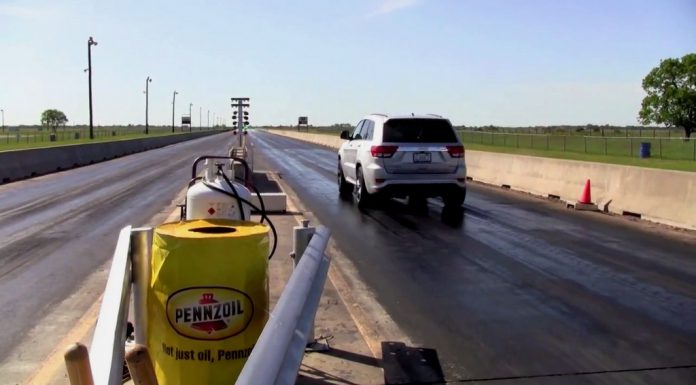 Hennessey Performance has revealed their latest project results based upon a Jeep Grand Cherokee SRT8 which achieved a 0-97km/h in 3.9 seconds. The Jeep SRT8 is fitted with a HPE650 performance package, as a result it has 650HP recording a quarter mile in 12.6 seconds at 110 mph.
The modlist form Hennessey's package includes Supercharged HPE650 Upgrade Includes a TVS2300 Supercharger System assisted by a HPE Air Induction System and a custom HPE Pulley (7-8 PSI Boost). Other parts include stainless steel long tube headers, high-flow catalytic converters, ported factory cylinder heads and a fuel system upgrade with high flow fuel injector upgrade.
The Jeep also features all necessary gaskets and fluids with a custom HPE thermostat to mention the HPE/Arrington engine calibration. The interior features Hennessey premium floormats while the engine will be covered by powdered Hennessey covers. Optional upgrades include the premium wheel and tire packages and a stainless steel cat-back exhaust. The entire package has a 3 Year / 36,000 mile limited warranty.
The Jeep SRT8 comes with the enormous 6.4-liter HEMI V8 with Fuel Saver Technology delivering 470 horsepower at 6,000rpm and 465lb-ft of torque at 4,300rpm; Hennessey has pushed it up to 650hp, up by 180hp.
http://www.youtube.com/watch?v=Fm1Z3kz6bQU