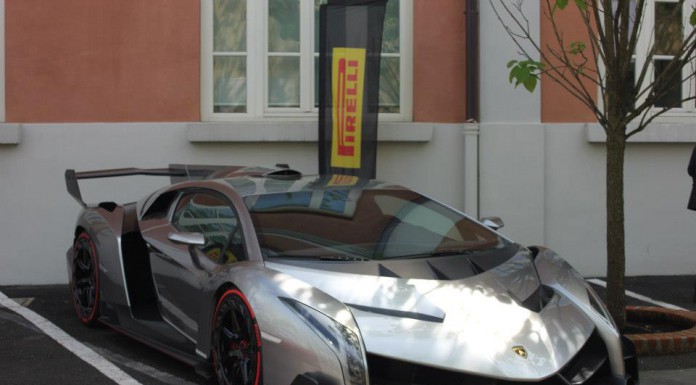 While we brought you news on the ongoing Lamborghini Grand Giro, we did mention that Pirelli is one of the largest partners representing at the event, they have partnered since 1963. In that regard, Pirelli has taken their time to spot several of the Lamborghinis in the rally that are running on their tires. And without doubt, they did find quite a lot, starting with vintage Lamborghinis to the modern ones, all running on either P-Zero Nero tires and the variants offered by Pirelli.
The Lamborghinis in the event represent almost every model that Lamborghini has made, they include three 350 GTs, five 400 GTs, seventeen Miuras, eight Espadas, two Jaramas, six Urracos, 15 Countachs, one LM 002, 21 Diablos and 36 Murcielagos. The Lamborghini Gallardo is the most represented with 123 registrations.
The participants are aware of the best way celebrate such an event and that's why they choose on Pirelli, a convoy of 350 Lamborghini's left Milan today and will head through the beautiful landscapes of Lombardia, Toscana, Lazio, Umbria, Emilia Romagna and of course, Bologna. In every 10 cars participating, four of them are historic models and participants come from all over the world-Canada to New Zealand.
Participants came from all over the world, with United Kingdom leading with 71 cars followed by Italy, Germany and Switzerland with over 30 participants each, USA with 21 cars and China with 17 cars. The other countries include; Australia, Austria, Belgium, Canada, France, Hong Kong, Indonesia, Ireland, Japan, Kuwait, Lebanon, Liechtenstein, Luxembourg, New Zealand, Norway, Portugal, Principato di Monaco, Singapore, South Korea, Taiwan, The Netherlands, Tunisia, Ukraine.
Follow GTspirit on Faceook for more updates on the Lamborghini Grand Giro!