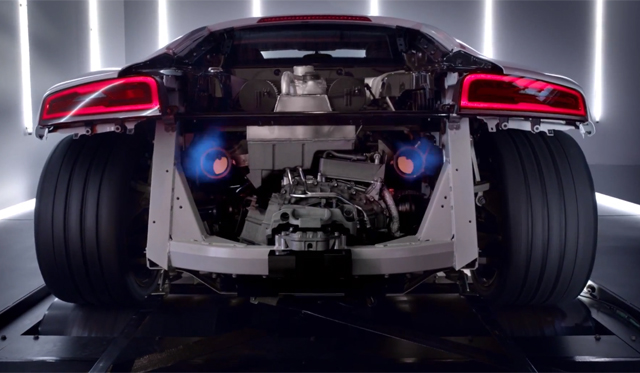 Audi has just released the following awesome video of the 2013 Audi R8 V10 Plus revving its 5.2-liter V10 heart out on a dyno and thanks to the rear end of the car being stripped away, we get a very clear image of the glowing hot exhaust pipes!
In addition to the release of this video, Audi has announced a new collaboration with the image-recognition app Blippar which in theory brings up 2D photographs of Audi R8's when one's smartphone is pointed at a printed advertisement of the Audi R8.
http://www.youtube.com/watch?feature=player_embedded&v=lpB1yR9Sz9Y#!
National Communicators Manager for Audi UK Kristian Dean said "The new Audi R8 V10 plus pushes boundaries in terms of performance and innovation. The use of Blippar technology allows people to interact immediately with the car, and get under its bonnet in a way they simply would not be able to do with a 2D advertisement alone.
"The new video content gives car enthusiasts the opportunity to hear the R8 V10 plus being taken to the red line."