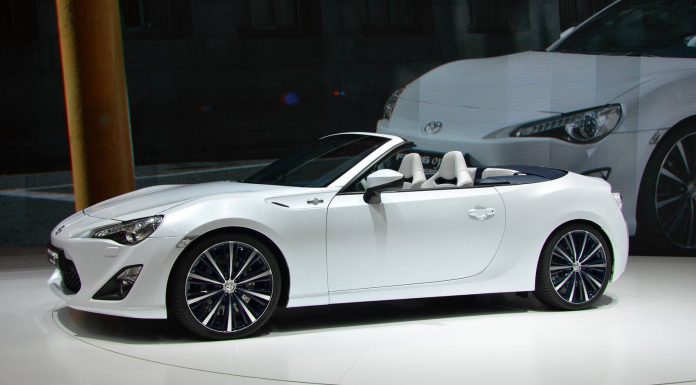 Toyota's major debut at the Geneva Motor Show 2013 is the Toyota FT-86 Open Concept. It is the convertible version of the Toyota GT-86. Toyota are using the Geneva Motor Show to gauge the reception to of a convertible GT-86 before giving he green light for a full production version. We sent a photographer to take a look!
The Open Concept uses the 197hp 2.0-litre four-cylinder boxer engine from the coupe with a choice of either 6-speed manual or automatic gearboxes. The Toyota FT-86 Open Concept remains a 2+2 sports car. The roof is canvas incorporating a glass rear window which tucks neatly behind the rear seats.
The car on display at the Geneva Motor Show is eye catching. It features a bright white exterior and contrasting navy blue canvas roof. The interior includes a set of bright white with yellow stitching to match the yellow carpets.
Let us know what you think of the Toyota FT-86 Open Concept in the comments box below, you could possibly be helping Toyota make important decisions about the car. If you want to know more, check out our official information post on the Toyota FT-86 Open Concept.