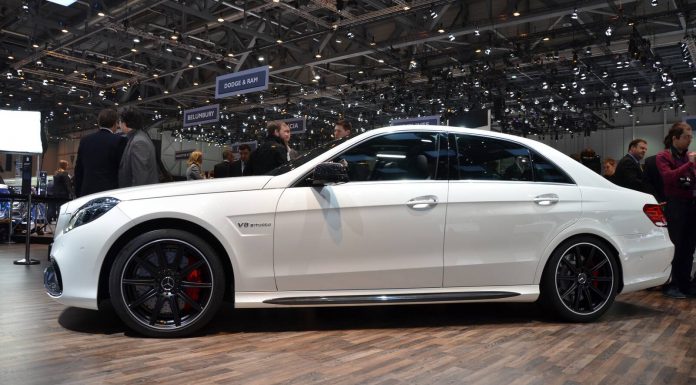 The Detroit Motor Show saw the official release of the Mercedes-Benz E 63 AMG 4Matic, the European market gets its first glimpse at the Geneva Motor Show 2013. The Mercedes-Benz E 63 AMG 4Matic has been updated for the current model year and features a new family front grille along with a four-wheel drive system. We sent a photographer to check it out!
The standard Mercedes-Benz E 63 AMG develops an output of 557hp accompanied by a torque figure of 720Nm whereas the new S specification gives 585hp and 800Nm from its powerhouse. Increased injection and turbocharging has been added in the new Mercedes-Benz E 63 AMG 5.5 liter AMG V8 biturbo, the 557hp is higher than the previous model which had just 525hp. The maximum torque of 720Nm is available between 1,750 and 5,250rpm.
The numbers allow it to sprint from naught to 100km/h in 3.7 seconds for the sedan and 1 tenth slower for the estate. This is impressive when compared to the rear wheel drive version whose 0-100km/h sprint was in 4.2 seconds. With the S-spec however, the 0-100kmh sprint is an impressive 3.6 seconds!
The optional 4MATIC permanent all-wheel drive in the new E-Class has brought about several changes in the car such as the multi-plate clutch with lock function from 50Nm. This helps to distribute some of the power and provide better grip in slippery conditions. The new system is biased 33/67 front-to-rear and it adds 154 pounds to the car's weight. In the Sport and Handling setting you find the Torque Vectoring Brake used to initiate selective braking on individual wheels.

The rear-wheel drive E 63 AMG Saloon is expected on the market in May while the 4MATIC versions will come in the third quarter. Their base price is estimated at $91,500-94,500.
For more details on the Mercedes-Benz E 63 AMG 4Matic, visit the embedded link!