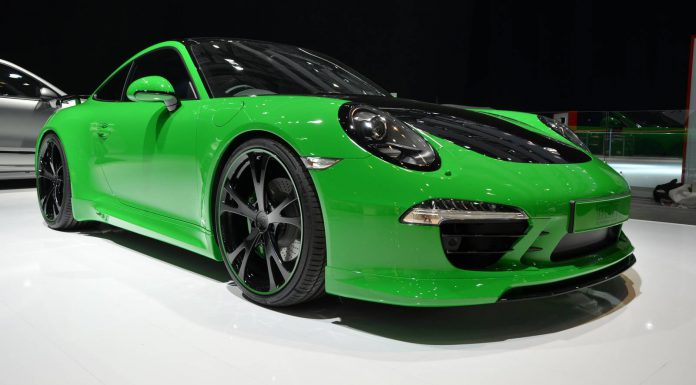 TechArt have two new releases on display at the Geneva Motor Show 2013. One of them is this, the TechArt Porsche 911 Carrera 4. The kit is a variation of the previous TechArt Porsche 991 body kit displayed at previous shows. The colour scheme of the Carrera 4 on display pays homage to the Porsche models of the 1970′s. We sent a photographer for a close up look!
The TechArt Porsche 911 Carrera 4 features the TechArt front spoiler with integrated splitter, aero wings, bonnet and roof in a glossy black finish. It also gets TechArt headlight trims and side mirror trims finished in glossy black. The final cosmetic upgrades include the TechArt side skirts, rear spoiler II, rear diffuser, roof spoiler and a wheel spacer kit.
The Techart Spoiler is particularly interesting. At speeds of 140 km/h the two-piece TechArt front spoiler I reduces lift on front axle of the Porsche 911 Carrera models by 5kg. At same speed the TechArtRrear Spoiler II and in combination with the diffuser, generates additional 17.5 kg down force at the vehicle's rear. Up to top speed this figure increases to 76kg.
The TechArt Porsche 911 Carrera 4 is fiited with a new TechArt Exhaust System Racing with valve control and double centre tailpipes which replaces Porsche's standard exhaust system and gives the car a more aggressive and sporty look. It is controlled by the sport button fitted to the center console. TechArt will offer it alongside the sport end mufflers and sport exhaust system with valve control in combination with double flow TechArt Sport tailpipes.

For more details on the TechArt Porsche 911 Carrera 4 click through the embedded link.