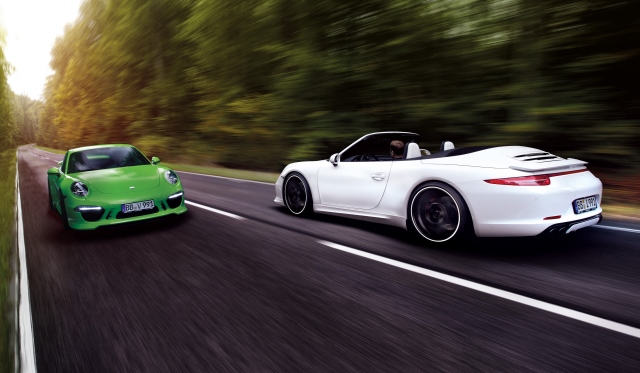 Porsche tuner TechArt has presented its personalization program for Porsche 911 Carrera 4 models. This coincides with the premiere of the new TechArt Exhaust System Racing with valve control and double centre tailpipes as well as the TechArt Noselift front axle lift system.
Also as a tribute to the Porsche models of the 1970's TechArt will be showing its interpretation of the 400hp Porsche 911 Carrera 4S in an Emerald Green color at the 2013 Geneva Motor Show from March 5 to 17 2013.
Starting off with the exterior, the Porsche 911 Carrera 4 by TechArt will feature the TechArt front spoiler with integrated splitter, aero wings bonnet and roof in glossy black finish. Next are the TechArt headlight trims and side mirror trims, also finished in glossy black. TechArt side skirts, rear spoiler II, rear diffuser, roof spoiler and a wheel spacer kit.
The new TechArt Exhaust System Racing with valve control and double centre tailpipes replaces Porsche's standard exhaust system and gives the car a more aggressive and sporty look. It is controlled by the sport button fitted to the center console. TechArt will offer it alongside the sport end mufflers and sport exhaust system with valve control in combination with double flow TechArt Sport tailpipes.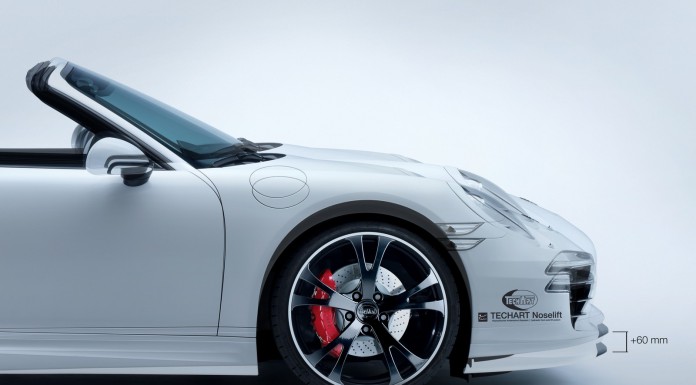 The TechArt Noselift System is activated by pressing a button also located in the center console. This enables 60mm more ground clearance at the front. The system can be activated when stationary at speeds below 60km/h. Aove those speeds, the vehicle lowers again automatically. Due to the hydraulic unit's compact construction boot capacity remains the same.
At speeds of 140 km/h the two-piece TechArt front spoiler I reduces lift on front axle of the Porsche 911 Carrera models by 5kg. At same speed the TechArtRrear Spoiler II and in combination with the diffuser, generates additional 17.5 kg down force at the vehicle's rear. Up to top speed this figure increases to 76kg. Meanwhile, the two Aero Wings, integrated into the front air inlet vents lend the 911 Carrera models a dynamic shaft outline.
The Porsche 911 models will receive TechArt Formula 5-spoke light alloy wheel in 20 and 21 inch sizes, as well as the TechArt Formula III 5-twin spoke forged light alloy wheel.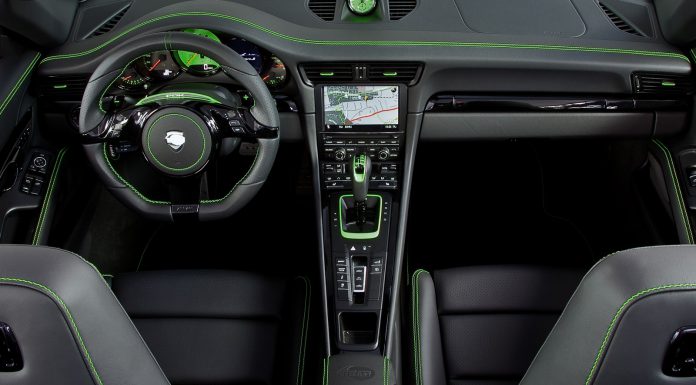 The interior features black leather sport seats in Emerald green with door panels in black leather and green decorative stitching. There is the ergonomically shaped TechArt 3-spoke sport steering wheel covered in black leather and Alcantara with green stitching, as well as integrated TechArt paddle shifters in black matt finish with green symbols. This matches well with black and green TechArt dials for instruments and Sport Chrono.