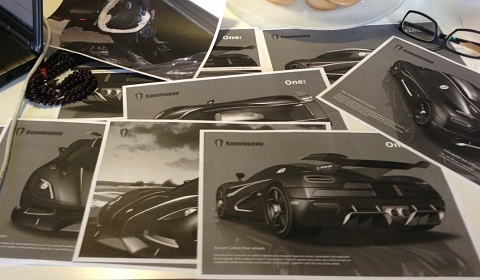 Chinese Koenigsegg dealership FFF seems to be working very hard on making the Koenigsegg One:1 a reality. We've managed to obtain a few shots of this fantastic looking hypercar for you to take a look at, it looks almost finished, but for the colour and trim. It seems that a meeting was held in Sweden recently where the specs were laid out on a table and finalised!
In the photos below you'll see a number of different designs, ranging from the original carbon fiber and dark blue look with orange and white accents, to the rather impressive accented 'checkerboard' carbon fiber finish. The majority of photos show the original finish though.
The car appears to feature a radically changed design compared to the other Koenigsegg special editions we have seen before. The design features carbon fiber wheels, a new front fascia with a more aggressive lower front splitter and a fixed roof with an air scoop made of carbon fiber. At the rear, you will see a massive rear wing along with a completely redesigned rear end with a new diffuser and exhaust tips. The roof and the wing are linked by a horizontal surface similar to the Pagani Zonda 760 RS.
The news that we are most impressed with though is that the One:1 will get an uprated version of Koenigsegg's unique twinturbocharged 5.0 liter V8 engine. We heard that it will be producing close to 1,400hp. The pictures reveal a photo of an existing Agera interior so we are assuming that the interior design will not differ radically from the standard Agera.
The One:1 will join the Agera R, Agera X, Agera R Second Generation and the Agera R BLT as it will probably be built on top of a Koenigsegg Agera. Hopefully, we'll get to see the finished car before it leaves the factory, but for now, these are all the details and photos we have.