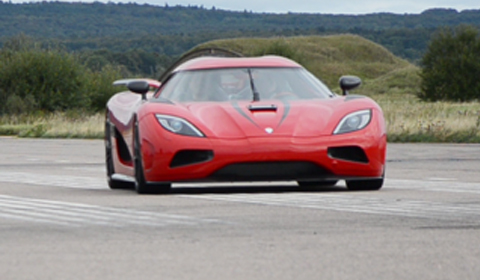 Today at the Ängelholm proving ground in Sweden, Koenigsegg with their new Agera R set several new production car world records for acceleration and retardation. The new times set by the Agera R are:
0-300km/h = 14.53sec
0-200mph = 17.68sec
300-0km/h = 6.66sec
200-0mph = 7.28sec
0-300-0km/h = 21.19sec
0-200-0mp/h = 24.96sec
All the data from the runs was collected by a third party on the officially accepted Racelogic VBox performance recorder, and is being submitted to the Guinness Book of World Records. The test track is completely flat and the weather during the run was that the wind was coming across the track at a strength of 9knts, therefore not giving the car a head or tail wind. The temperature was 15.4 degrees with an air pressure reading of 1015hpa.
The Agera R in question is now on it's way to Singapore and will be present at the the FIA Formula 1 World Championship race on September 25th.
Koenigsegg Agera R at Geneva 2011