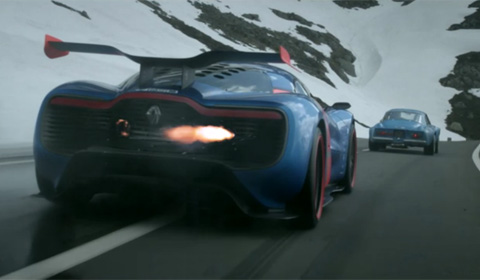 Renault has made a great video starring the both the new conceptual Alpine A110-50 and its spiritual predecessor, the Alpine 110 Berlinette which recently celebrated its 50th anniversary.
The Alpine A110-50 is based on the racing version of the Megane Trophy and is powered by a 3.5 liter V6 engine block which puts out 400hp. The engine is mounted in mid-rear position and paired with a semi-automatic six-speed sequential gearbox derived from Formula One.
The carbon fiber bodywork of the coupe is inspired by the Renault Dezir Concept, and features the new design language of the French manufacturer; the new front-end look will feature on all future Renault models. In contrast to the driving aids which surely will be featured on all other Renaults, the Alpine A110-50 doesn't come with ABS and traction control.
In this video the new Alpine is driven by French former rally driver Jean Ragnotti, who piloted a Renault 5 Turbo to victory in the Monte Carlo Rally in 1981. Ragnotti is challenged by a younger version of himself who drives the original sports car. Old versus new, watch the video to see who will win the epic battle on twisty mountain roads.