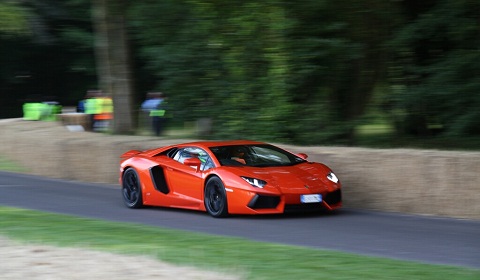 Here at Goodwood Festival of Speed 2012, the supercars are hitting the hill climb twice a day. The galleries below give you a close up look at the cars as they head up the hill. There's some fantastic cars on display over the course of the weekend.
The cars including the Pagani Huayra which is one of our favourites. There's also the UK premiere of the Bugatti Veyron Grand Sport Vitesse, another technical masterpiece. Bentley have displayed the Continental GT Speed for the first time alongside the Bentley Continental GT V8, a car that has had a fantastic response. On the more obscure side you have the Ginetta G60, the GTA Spano and the brand new Arash AF-10 LM racer. Others include the Lamborghini Aventador LP700-4, the Lexus LFA, the new McLaren MP4-12C and the Morgan Plus 8.

All the major brands took cars along the moving display, which heads up the hill climb six times during this year's Festival of Speed. Cars like AC 378 GT, Alfa Romeo 8C Spider, Audi R8 V10, BMW F12M M6 Coupe and Convertible, Camaro SS, Ferrari 458 Italia Spider, Lotus Evora GTE, Maserati GranTurismo Sport, Mercedes-Benz SLS AMG Roadster, 2012 Porsche 911 and RUF CTR3 Clubsport are all part of the lineup!