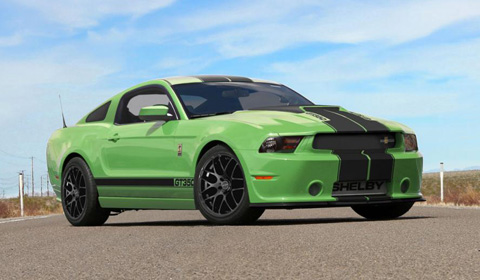 Shelby American has unveiled the 2013 GT350. The high performance variant of the Ford Mustang which is available as coupe or convertible comes with a few new features and options. The 2013 Shelby GT350 received a few minor cosmetic changes including a new rear similar to the Shelby GT500 Mustang.
Whereas last year's Shelby GT350 was only available in the colors red, white and blue, the 2013 model will be offered in ten different colors which could be enhanced via the optional satin black, gloss white or metallic azure blue striping. The restyled wheels of the American sports car are now available in either silver of black.
The GT350 is powered by a naturally aspirated V8 engine which puts out 430 horsepower. New is the optional cold air intake which raises the output to 450 horsepower. Those interested in even more power could opt for the supercharged package, which increases to power to either 525 or 624 horsepower. A six-speed manual is standard, but a six-speed automatic transmission is optional for the naturally aspirated version.
Furthermore the GT350 option list includes an one-piece driveshaft, high-performance brakes, an enhanced cooling system, a modified custom rear valance, and a color-coordinated billet aluminum engine cap set. As for the interior, the GT350 comes with Recaro race seats. To round of the new upgrades, a panoramic glass roof could be fitted as well.
Production will be limited to 350 units and pricing starts at $26,995 for the naturally aspirated package or $33,995 for the supercharged one. It should be noticed this does not include the price of the Ford Mustang GT itself.