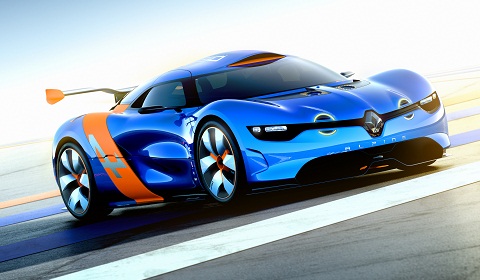 Renault have officially revealed the Alpine A110-50. It's a concept car, due to be presented over the weekend at the 2012 Monaco Grand Prix. It celebrates the Alpine Berlinette's 50th anniversary and at the same time, introduces Renault Design's 'new language'. We are told that the new front-end look will feature on all future Renault models.
The Alpine A110-50 features a 3.5 liter 24-valve V6 Renault V4Y engine block putting out 400hp. Renault have mounted it in the middle of the car with a rear bias. It gets a semi-automatic six-speed sequential gearbox with a twin-plate clutch that can be controlled using either the clutch pedal or a paddle on the steering wheel. Other features include a limited-slip differential (discs and ramps) and a cerametallic twin-plate clutch built specially for this car.
The Renault Alpine A110-50 is essentially a Renault Mégane Trophy car underneath. It features a tubular chassis which has been stiffened and developed specifically for the Alpine A110-50. The roll cage and bracing in the engine bay have been lowered by Tork Engineering to adapt them to the vehicle's lower height. Weight distribution places 47.8 percent over the front wheels.
The Alpine A110-50 features flowing bodywork, thin head lamps, crescent shaped full yellow LED lights and a 3D rear window with a view of the mid-rear engine bay. Air intakes on each side share their style with the rear wheel arches of the original Berlinette. The air vent on the right-hand side is for gearbox cooling, the left feeds air into the engine bay.
The Alpine A110-50 gets carbon fiber bodywork featuring a new shade of Renault blue which refreshes and reinterprets the famous original 'Alpine Blue'. Renault tells us that the bonnet is hinged at the front and the engine bay cover opens towards the rear. The doors have a showpiece scissor motion.
Inside the cockpit gets carbon fiber door sills, an uncluttered dashboard, Sabelt full harness belts, and a steering wheel incorporating a colour screen. This handy screen features the same technology as the single-seater Formula Renault 3.5 providing drivers with all the information they need. The wheels are 21 inch central locking units and Renault have not fitted any electronic driving aides.