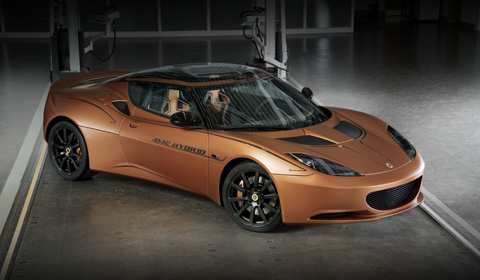 Lotus already unveiled its Evora 414E Hybrid concept at the 2010 Geneva Motor Show, but testing of a pre-production version has just commenced.
Based on the Lotus Evora, the 414E Hybrid is powered via a pair of electric motors mounted in the two rear wheels which is connected with a range-extender. This is an 1.3 liter three-cylinder engine which will be used as a generator to supply the motor with electrical power and to top up the battery. Lotus claims a total hybrid range of over 300 miles (483km), and up to 30 miles (48km) can be travelled using battery power alone.
The two motors each provide 152kW (207hp) of power and 400Nm (295lb/ft) of torque, so the total amount of power available from a standstill is 590lb-ft (800Nm). The hybrid Lotus should be able to accelerate from zero to 60mph (97km/h) in under four seconds. The top speed of the 414E is 130mph (210km/h).
The Lotus has a simulated paddle shift gear change offering ultra quick gear changes reminiscent of a dual clutch transmission. In fact, the two electric motors are connected to a single-speed transmission. But the virtual gearbox enhances the driver interaction and enhances the driving experience. It even comes with a drive torque modulated to simulate a physical feeling of a gearshift jolt and a sound synthesizer which simulates the gear noise change.
An intelligent pedestrian warning system is included as well. This system uses a camera to determine the distance, trajectory and speed of pedestrians and other road users, and if necessary to warn them of the vehicle's location. Lotus hasn't released any information regarding the price tag of the car, or when it will be available. So more news will undoubtedly follow.