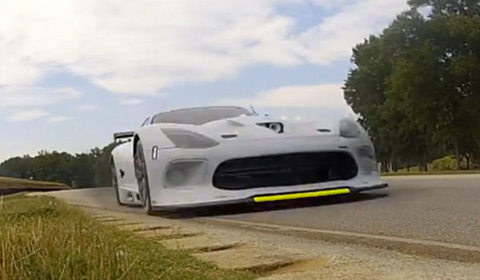 SRT Motorsports has been busy testing and developing the Viper GTS-R for its debut in the American Le Mans Series (ALMS) later this year. The latest series of tests has brought the GTS-R to Virginia International Raceway for a full day of tuning and adjustments, which can been seen in this video.
The 2013 SRT Viper GTS-R is based on the new production Viper, but features some changes. Whereas the road-going Viper is powered by an 8.4 liter V10 engine the GTS-R uses an engine with a displacement of 8.0 liter.
Because rules of the ALMS dictates a maximum engine size of 5.5 liters, SRT was forced to compensate for the size advantage by adding an intake restrictor. The amount of power provided by the restricted and downsized engine hasn't been revealed, nor when the car will enter its first race.