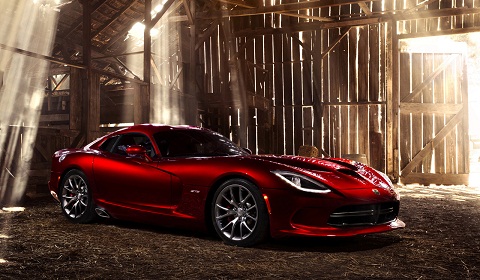 The 2013 SRT Viper has officially been revealed ahead of its debut at the New York Motor Show today! Two new versions of the SRT Viper were announced, the SRT Viper and the SRT Viper GTS. They both get the new Viper logo, named the "Stryker" by the Viper Club of America.
The rumours have proved true about the engine, the SRT Viper gets an 8.4 liter V10 unit producing 640bhp and 600lb-ft of torque. It has the most torque of any naturally aspirated engine in the world. It gets a lightweight composite intake manifold, high-strength forged pistons, sodium-filled exhaust valves, new catalysts to reduce back pressure and an aluminum flywheel that reduces reciprocating losses. Altogether, a 25 pound weight loss over the previous model.
The 2013 SRT Viper gets a re-engineered version of the Tremec six-speed manual found in the previous generation viper. Modifications include a shorter throw shifter, closer gear ratios and a final drive ratio that has been shortened to 3.55 from 3.07.
The SRT Viper includes a carbon-fiber hood, roof, decklid and aluminum door panels. These panels help reduce the weight down to 1,455kg, 55 kg's lighter than the old car.
A stiffer chassis provides 50 percent more torsional rigidity. A new aluminium "X" brace has been added under the hood with an aluminum impact beam. The changes reduce weight by 100 pounds. The SRT Viper gets uprated Bilstein dampers while the Viper GTS gets a two-stage adjustable system that you can switch from 'street' to 'track' setting. With that in mind, the inclusion of electronic stability control and traction control modules bring the Viper closer to the competition than ever before.
Four-piston Brembo brakes with fixed-aluminum calipers, and vented rotors with a diameter of 355mm by 32mm, are used at all four corners. StopTech units are available through an SRT Track Package. Bi-xenon projector headlamps have been fitted alongside daytime running lights.
The interior is completely leather and features such comforts as a Harman Kardon stereo, high-performance racing seats from Sabelt which sit 20mm lower than the previous generation, there's also more leg room. You'll find a 7-inch, full-colour, customizable instrument cluster display, climate controls, navigation, phone, cruise control and launch control.
As you'll gather from reading the above details, the Viper hasn't quite been revamped to the standards of German or Italian supercars. Yet that is the appeal. It's a simple straightforward machine, lots of power, now more comfortable than ever before, an event to drive, to look at and to own. We like it!