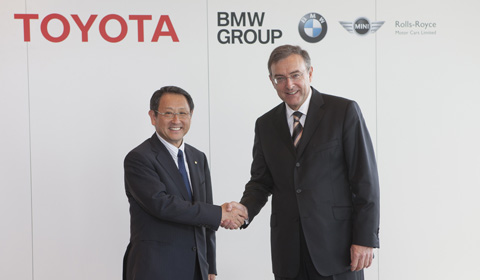 BMW and Toyota will expand their existing collaboration and will develop a new sports car together. This news was confirmed by both car makers in an official announcement last Friday.
BMW CEO Norbert Reithofer and Toyota President Akio Toyoda signed at BMW's headquarters in Munich an initial agreement aimed at long-term strategic collaboration in four fields: joint development of a fuel cell system, joint development of architecture and components for a future sports vehicle, collaboration on powertrain electrification and joint research and development on lightweight technologies.
Reithofer said: "We aim to further strengthen our competitive position in sustainable future technologies. Together we have a great opportunity to continue leading our industry through this transformation."
Toyoda added: "Toyota is strong in environment-friendly hybrids and fuel cells. On the other hand, I believe BMW's strength is in developing sports cars. I am excited to think of the cars that will result from this relationship."
Back in November last year, the German and Japanese companies already signed an agreement in which the two will conduct joint battery research for next-generation environmental friendly cars. BMW has also agreed to supply Toyota with diesel engines.
Speculation has already started about this future sports vehicle. Most likely this will be a future successor to Toyota's Supra, the sports car that was produced from 1979 to 2002. Two years ago Toyota applied for a trademark to the Supra name. It is rumoured a new Supra is currently being developed and will be released somewhere in 2015.