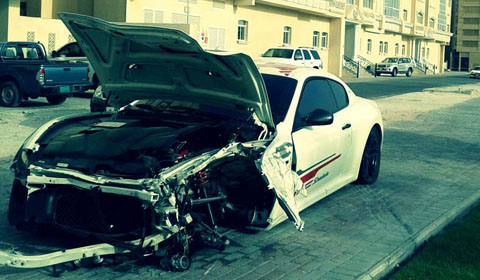 A Maserati GranTurismo MC Stradale has crashed in Qatar yesterday evening. According to Roni Babu, who made these pictures of the damaged car, the Maserati was involved in an accident which wrecked six cars altogether.
Apparently the driver of the Maserati braked harder than usual while approaching a busy roundabout. The person who was driving closely behind the Maserati couldn't avoid a collision and bumped into the Italian sports car. This result was that the driver of the Maserati lost control of his car and smashed into a tree.
Because more cars were involved in this crash, it appears the 'brake test' resulted in a pile-up. There is no further information about the other cars and persons involved, but judging from these pictures the Maserati could be declared a write-off.