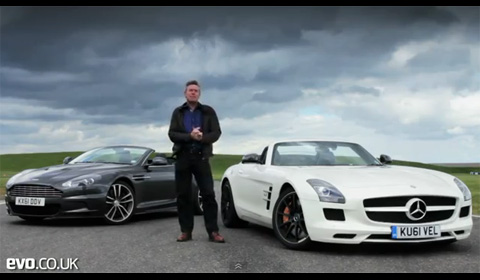 In this video Fifth Gear's and Evo Magazine's Tiff Needell takes the Aston Martin DBS Volante and Mercedes SLS AMG Roadster out for a battle. Which one will perform better on track in the hands of the experienced British television presenter and motoring journalist?
The Aston Martin DBS Volante is powered by a 5.9 liter V12 engine which puts out 510 horsepower and 570Nm of torque. Its replacement is well underway as Aston Martin unveiled the new AM 310 Vanquish sports coupe, which eventually will be joined by an open version that will succeed the current DBS Volante.
The Mercedes is more powerful, its 6.2 liter V8 provides 563 horsepower and 650Nm. But Mercedes recently presented the facelifted SLS AMG GT, which will replace the current SLS AMG. It gets enhancements to driver dynamics, increased power, modifications to the gearbox and further interior options.
Watch the video below to find out which car will be faster in the wet and slippery conditions. Will it be the German or British open sports car?