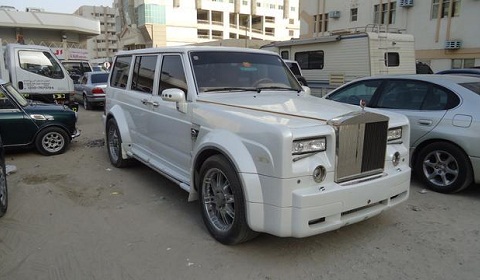 Time for another entry into our overkill category with this 1993 Nissan Patrol, currently up for sale in Al Nahda, Dubai. You'll instantly notice that it has been given a facelift Rolls-Royce style! It features the complete Rolls-Royce Phantom front bumper, complete with grille, headlights and fog lights. It also features a bespoke interior and rear lights lifted from the Range Rover Sport.
Further modifications include a bodykit, a quad exhaust kit and panoramic roof, parking sensors and a set of new wheels. It's definitely a car for those who want something strange. As we've always said, you can count on Dubai for something unique and unexpected.
If you're interested, the price is 58,000 dirham which converts to 5,250 euros at todays exchange rate. The car has 167,000km on the clock and, despite the V8 badges, the seller reveals this particular Nissan Patrol has a V6 engine.