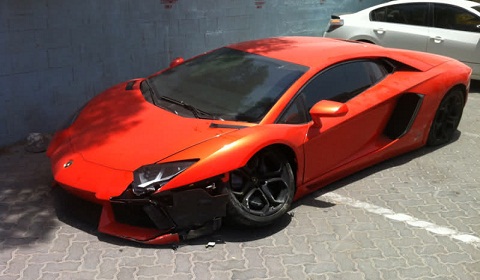 Another Lamborghini Aventador LP700-4 has been wrecked, this time in Dubai. The owner of the orange Aventador apparently tried drifting the four-wheel drive coupe, lost control and hit something causing damage to the front left wheel. The owner then dropped it in front of a garage, without plates, expecting a free repair and service.
Sadly, it isn't the first Lamborghini Aventador crash we've seen at least five accidents so far, not including the test mule that plowed into a snow drift during the winter. This is the first crash we've seen that involves a Dubai-registered car though. It doesn't look like this particular car will be a write-off although repairs will still be expensive. The only totaled car so far appears to be the Californian example that burnt down on a test drive.
The Lamborghini Aventador LP700-4 has a new 6.5 liter V12 engine that produces 700hp at 8,250rpm and 690Nm at 5,500rpm. Lamborghini used a carbon fiber monocoque with an aluminium subframe, produced in-house by Lamborghini with help from Boeing and the University of Washington. 100km/h is reached in less than three seconds, 200km/h in 8.9 seconds and a top speed of 217mph makes it one of the fastest supercars on the market.
Thanks to Aditya for the tip.