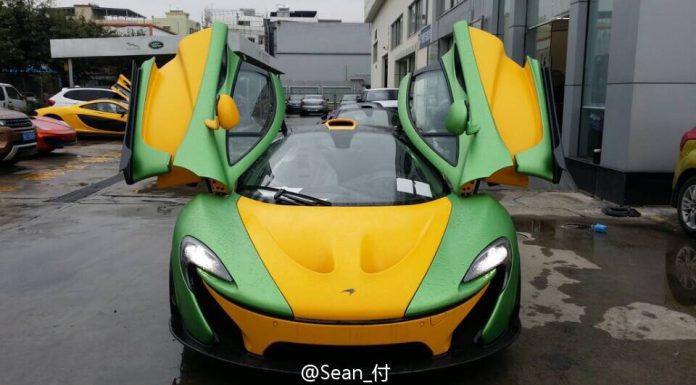 A fresh batch of McLaren P1's recently hit China's shores. Among the new arrivals, this unique example was spotted. We doubt many other McLaren owners have gone quite so drastic with their colour schemes. The paint job on this car is said to have cost the owner 850,000 Chinese Yuan which roughly converts to around 110,000 euros.
The colour scheme is a mismatch of metallic green with bright yellow accents. The spoiler is where the fashion faux pas is committed. The red, yellow and blue resembles a horizontally flipped Romanian flag. It isn't clear whether the interior has received a similarly bizarre colour scheme, although from what we can see, it looks like a more restrained shade of black has been used.
Whether you like the bold styling or not, it serves to show just how amenable the guys at McLaren Special Operations can be. As long as a customer has the funds, McLaren will cater for the taste. This isn't the first unique McLaren P1 we've seen and it certainly won't be the last.
CJ Wilson's purple Chameleon coloured McLaren P1 is another example, as is the Michael Fux car. From the information we have at this point in time, we suspect this isn't just an eye-catching wrap. In our opinion though, it probably should have been…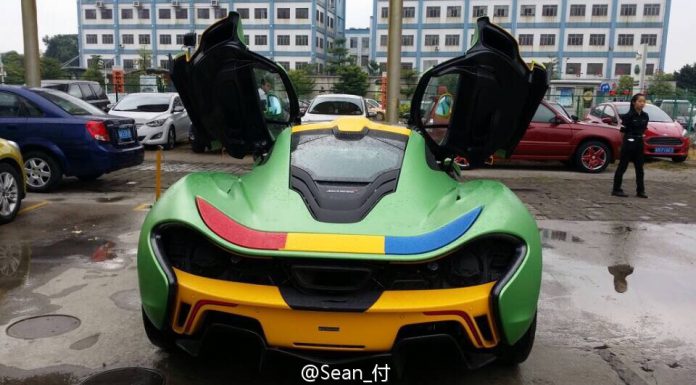 The McLaren P1 has been in production now for just over a year. McLaren recently announced that a McLaren P1 GTR will be made available after the initial 375-car production run is complete. The cars will be made available in 2015, and will be built and maintained by McLaren Special Operations. Read all the latest details on the McLaren P1 GTR here and the latest McLaren P1 news here.