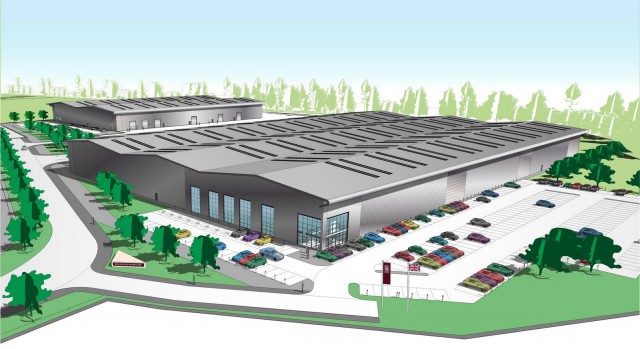 Rolls-Royce Motor Cars says construction of the new Rolls-Royce Technology and Logistics Centre at Bognor Regis, close to the home of Rolls-Royce near the historic motor circuit at Goodwood, West Sussex, is now well under way and on target to be fully operational in early 2016. Ground was first broken in November and the site is being levelled ready for building to start in the new year.
The Rolls-Royce Technology and Logistics Centre is located on the Oldlands Farm Business Park on the northern edge of Bognor Regis, eight miles from Rolls-Royce Motor Cars's Goodwood home where, as pictured above, the company celebrated the 110th anniversary of its founding this year as well as at The Midland Hotel in Manchester where the famous founding partners sealed the deal.
The new 30,000m2 centre centralising operations for about 200 staff working alongside the 1,500 currently based at Goodwood where production will continue, will consolidate several current logistics functions and allow for future expansion. The centre will be ideally located to take advantage of the new Bognor Regis Northern Relief Road, due to open in February 2015.
The Rolls-Royce Technology and Logistics Centre will consolidate three current operations – an inbound warehouse for production parts, a distribution centre and a workshop for car preparation. Director of manufacturing Frank Ludwig said,"The development reflects not only the sustainable growth and ongoing success of our business, but also our investment into the future of manufacturing here in West Sussex."