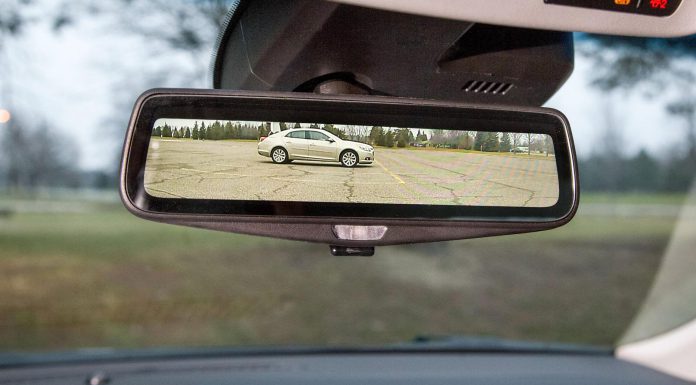 Details about the Cadillac CT6's upcoming video streaming rearview mirror have been released with the new system claiming to provide four times greater vision than a standard rearview mirror.
The display in the mirror features a 1280 px wide TFT-LCD display with 171 pixels per inch. It is combined with a HD camera designed specifically to enhance rear view lane width and to maximize low-light situations. To ensure the camera also remains clear, a water-shedding hydrophobic coating has been applied.
One of the key advantages of the use of a screen instead of a traditional mirror is that it eliminates any rear seat, rear pillar of rear passenger obstructions from the field of view. It also provides the driver with a clear view out the rear while eliminating traditional blind spots. If the driver chooses, the screen can be switched off and reverted to a traditional mirror finish.
Discussing the system, the Cadillac CT6's executive chief engineer Travis Hester said, "The closest comparison to this kind of rear vision would be driving a convertible with the top down."
Beyond its implementation of this new technology, we know that a key area of focus for Cadillac will be ensuring the CT6 is as light as possible. As a matter of fact, General Motors executive vice president of global product development Mark Reuss recently announced that the CT6 will weigh 24 kg less than the current CTS. This is extremely impressive considering the CT6 will be about 20 cm longer than the CTS while also inevitably being wider and featuring a range of additional luxuries.