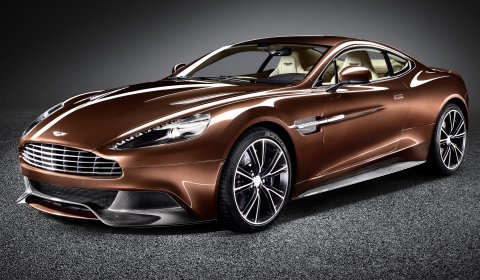 Aston Martin has officially released their new luxury sports car, the 2013 Aston Martin AM 310 Vanquish. The release follows after specifications and information were released yesterday morning on the website of Aston Martin.
The only thing missing from the release were the officially pictures and video, which you can check below. On the pictures and in the video you will see styling cues such as the elegant new waist, elongated side strakes and LED rear light blades derived from the One-77 supercar. Another new design characteristic is the Aero Duct on the rear boot lid.
The newly two-door coupe is available in a 2+0 or optional 2+2 seating configuration. The new generation has bonded aluminum and carbon fiber VH structure. The body is made of aluminium, magnesium, alloy and carbon fiber composite. The torsional rigidity is improved by more than 25 percent. The front chassis structure is a full 13 percent lighter than the DBS.
The all-alloy front-mid mounted 5,935cc V12 engine has independent quad variable camshaft timing. The engine produces 573hp at 6,750rpm and a maximum torque of 620Nm at 5,500rpm. The zero to 100km/h sprint is done in 4.1 seconds and the top speed is 295km/h, which is slightly slower than the DBS.
If you would like to know more about the new Aston Martin AM 310 Vanquish then please check this post!