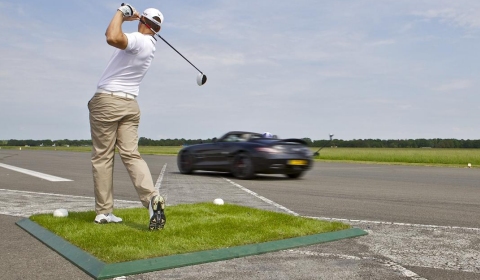 Formula 1 and DTM driver David Coulthard and professional golfer Jake Shepherd set a Guinness World Record on wednesday at the Dunsfold Aerodrome aka the Top Gear test track as part of a viral film for Mercedes-Benz UK.
David was driving the Mercedes-Benz SLS AMG Roadster at 120mph, when he caught a golf ball in the cockpit of the moving car which was 275 meters from the tee, and hit by Jake at a speed of 178mph. This achievement secured the world record for the furthest golf shot caught in a moving car in only the second attempt of the day. The whole record attempt was captured on film and will be launched in early July.
David Coulthard said:
This world record attempt is definitely one of the most unusual things I've ever been asked to do with a car! Jake Shepherd was great to work with and the performance of the SLS AMG Roadster made driving to catch a mid-air golf ball even more exciting. I am honoured to have received the Guinness World Record for the furthest golf shot caught in a car.