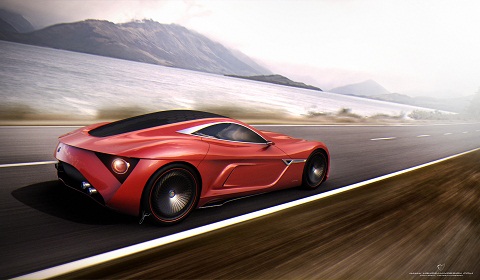 Ugur Sahin Design, designers of the Soleil Anadi that debuted at Top Marques Monaco this year, have unveiled the Alfa Romeo C12 GTS Concept. As with the Anadi, Ugur Sahin Design needs investors to help make the Alfa Romeo C12 GTS Concept into a real life, moving vehicle.
The main goal for this design was to reinterpret Alfa Romeo's historical lines, surfaces and styling cues. The designer wanted to create a project that provides a fresh perspective on the familiar Alfa Romeo design language. Visually, the C12 GTS has sharper lines and surfaces yet it manages to retain the organic attractiveness of the Italian brand.
The C12 GTS gets the iconic Alfa Romeo Grille which provides the central point for the design lines which flow towards the back of the car with minimum distraction. It creates the impression of movement, even when the car is standing still. The proportions are roughly balanced and the silhouette looks traditional. Overall, the C12 GTS is proposed as a larger version of the 8C, more suited to GT applications than as a raw sports car.