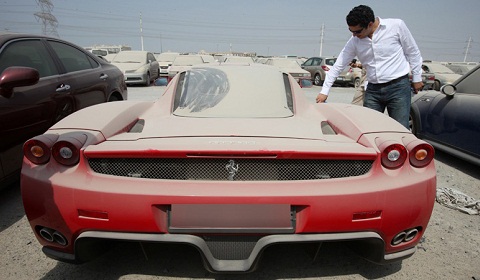 Remember the pictures of a dust covered Ferrari Enzo, abandoned in a Dubai parking lot? The Enzo sat there for more than twenty months after the British owner left the emirate, fleeing from debt. It will be auctioned as part of a 129 car sale tomorrow (Wednesday) starting at 9 AM. The sale will happen near the Dubai International Airport in Al Quasis.
The British owner fled Dubai, presumably after a business deal or property venture went bad. In Dubai, debt is a criminal offence. The owner of the car probably fled to avoid being caught by the Dubai Police Force and having to serve a lengthy prison sentence. By escaping the country, back to the United Kingdom, he ensured the British government would not extradite him to the emirate. To authorities suggest that the car has a number of outstanding traffic fines which gave the authorities the right to seize the Ferrari.
He left the hypercar in a parking lot close to the airport. The Ferrari Enzo later became wanted by Interpol and was seized by the Criminal Investigations Department of the Dubai Police Force. twenty months after the cars was abandoned, we see it is up for auction. The Ferrari could fetch as much as 5.6 million dirham (500,000 euros).
The emirates laws allow the authorities to seize a vehicle that has been abandoned for more than six months. To participate in the auction, a 50,000 dihram deposit has to be made, to simply watch will cost you 110 dihram.
The Ferrari Enzo isn't the only supercar to be found abandoned in the United Arab Emirates. In the past we've seen a Ferrari F40, a Jaguar XJ220, a BMW M6 and a DMC DeLorean all languishing in the sun.