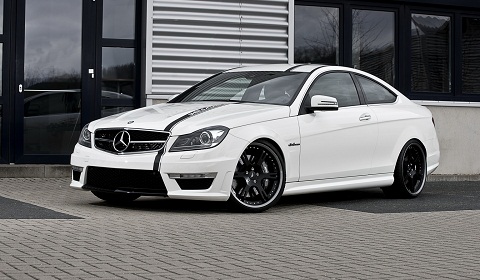 Wheelsandmore announced their latest kit for the W204 Mercedes-Benz C63 AMG Coupe is being sold. The Mercedes-Benz C63 AMG Coupe got a new set of wheels, better rubber, suspension adjustments and a power upgrade. To finish it off, a stripe running off-centre has been fitted. It is up for sale with the tuning components for 88,888 euros, reduced from the 109,700 euros the German company would have charged new.
The modifications include a new set of 3-piece, Wheelsandmore 20 inch 6Sporz forged rims finished in black with anthracite outer rims. The tyres are Dunlop GT SPortmaxx measuring 235/30/20 at the front and 275/25/20 at the rear. The package also benefits from the Wheelsandmore racing coilover kit, adjusttable for pressure and rebound.
Performance enhancements come in two stages. The first consists of software optimisation and a set of sports air filters, taking the coupe to approximately 510hp and 640Nm of torque. With just this option installed, the price is reduced by 2,500 euros. The second stage, catered for in the full price, gives you a new manifold, sports air filter, exhaust system and and optimised software. This releases a full 570hp and 690Nm of torque.