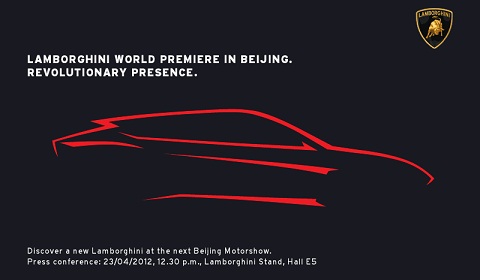 Lamborghini released a teaser image attached to an invitation to come see their world premier, widely expected to be an SUV concept, in Beijing next week. Sadly, we won't be there to see it in person, however, we have collated a lot of rumours recently that indicate roughly what should be expected from the new SUV concept!
To start with the newest rumours. Many are expecting the SUV to be called the Urus Concept. Quite how accurate this is, we aren't sure. The silhouette of the SUV, as you will see from the image, is very similar to the BMW X6, but it is more similar in size to the Audi Q7. It is a completely different style of off-road vehicle compared to the LM002, it still has high ground clearance and a muscular appearance though. We are expecting it to have just three doors.
It gets 24-inch carbon fibre wheels which hide carbon ceramic disc brakes. The diffuser hides quad exhausts and the concept gets cameras for mirrors, we don't expect to see this on the production model.
It is a four-seater, with the seats inspired by those seen in the Sesto Elemento Concept shown at the 2010 Paris Motor Show. The cabin gets plenty of carbon fibre trim and a high center console that extends between the two rear passengers. This is all the information offered by those who have seen the concept, however, this is not where the details end.
Another name being thrown around is the MLC Concept which goes with the rumours that new "MLB" architecture, which will underpin the next Audi Q7, will form the basis of the Lamborghini SUV. This will be constructed from aluminum and carbon fiber, reducing the weight of the Lamborghini SUV as much as possible.
Under the hood of the concept, we should find the Gallardo-based V10 with an output of 575 horses, according to the magazine. Other powertrains like a twin-turbo V8 or a hybrid drive train are also being considered for the Lambo SUV. However, Lamborghini boss Stephan Winkelmann confirmed to Autocar that the firm is unlikely to turn to turbocharging this decade – but has refused to rule out the switch in the longer term.
For full, accurate details we will have to wait until next Monday, 12.30. Expect something special.