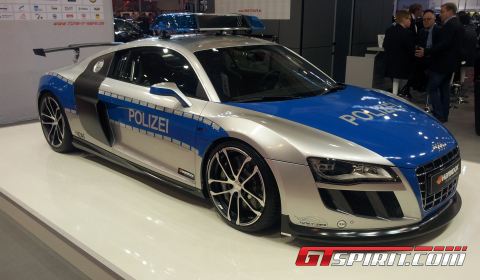 Our final post about the Essen Motor Show 2011 includes an unique project. Tune IT! Safe! magazine presented at the tuning show an Audi R8 police car.
The "Tune it! Safe!" campaign is now in its seventh year and committed to safe and reputable car tuning. The campaign is supported by car clubs and tuning companies as well as the Federal Ministry of Transport.
Kempten-based tuning specialist, ABT Sportsline and Hankook Tyres joined forces to create this special ABT R8 GT R model. The sports car is limited to only 25 road-going units. This particular model is purely build as a show car. The police car is powered by a 5.2 liter V10 engine producing 620hp. The maximum speed 325km/h, zero to 100km/h is done in 3.2 seconds. The package is 100kg lighter than the stock model.
The police car livery was supplied and applied by Foliatec. The roof-mounted RTK 7 LED light bar is from Hella.
If you want to read our complete coverage of the Essen Motor Show 2011 then click on the link here.