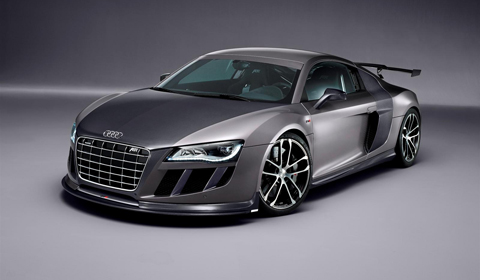 ABT plan to unveil their new Audi R8-based project, the R8 GT R at this years Geneva Auto Salon. Limited to just 25 copies, ABT have built the ultimate R8 based on the structure of the 5.2 FSI V10 production car. Using experience gained from DTM and the ADAC GT Masters racing series, ABT have engineered a lighter, faster and meaner R8 for a dedicated group of customers.
Utilizing carbon fibre technologies in their aerodynamic additions, ABT have managed to add the necessary body parts whilst still reducing the overall weight of the R8 by 100kg. Much of this dramatic weight loss comes from the installation of high-tech polycarbonate windows (Makrolon).
Under the bonnet cover, ABT have upped the power figures by once more applying the ABT power upgrades. This time, the R8 raises from 525bhp to 620bhp allowing for 0-100km/h (62mph) in just 3.2 seconds and 200km/h (124mph) in just 9.9 seconds. The R8 GT R will carry on all the way to it's top speed of 325km/h (202mph).
To improve the performance, ABT have added a number of tweaks ranging from height-adjustable ABT Sports
suspension and adjustable dampers to a ceramic brake system with modified brake pads able to handle the increase in performance. A new sports exhaust has also been fitted with a titanium coating applied to cope with the heat better.
Aerodynamically, a number of modifications have been made to improve the airflow and handling of the vehicle. For starters there's new front, rear and side skirts all weight optimized and finished in carbon fiber. To take care of the downforce, ABT have added a rear wing, once more, optimized and finished in carbon fibre. The rest of the modifications include an adjustable front panel, new door sills, hatchback, side mirrors and engine bonnet.
For the wheels ABT have used there own ABT CR Superlight's. They live up to their name with the fronts weighing just 8.2kg and the rear 10.2kg. Both are 19 inches (x9 at the front x11 at the rear) with Michelin Sportcup (235/35 ZR 19 or 305/30 ZR 19) being the tyre of choice.
Christian Abt had this to say about the GT R, "The R8 GT R is an uncompromising racing car for the road, and provides maximum performance. I recommend trying the GT R on a racing track from time to time, as the car is great fun to drive there." We look forward to getting a look at the R8 GT R when it's unveiled tomorrow at the Geneva Auto Salon. Until then, enjoy these photos…
Check out our teaser shots of the brand new ABT R8 GT R!