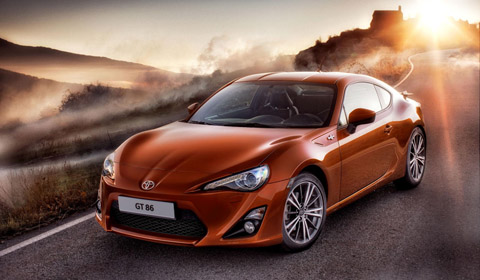 Toyota has officially revealed the production version of the FT-86, called the GT-86 in tribute to Toyota's GT car heritage. The lightweight and rear-wheel-drive compact 2+2 will make its public debut at the Tokyo Motor Show next week.
The four-seat Toyota GT 86 was developed together with Subaru, which will present its own version of the sports car called the BRZ. The engine is provided by Subaru and Toyota added the direct-injection technology.
The naturally-aspirated 2.0 liter four-cylinder boxer engine provides 197bhp at 7,000rpm and 205Nm of torque at 6,600rpm. The Subaru BRZ will be more powerful with a total of 300hp. Power is transferred to the rear wheels through a limited slip-differential and a standard six-speed manual. An automatic six-speed transmission with paddle shifters is optional.
The Japanese carmaker did not released any information about the performance of the GT-86, but with a kerb weight of just 1,180kg, the GT-86 should be able to accelerate from standstill to 100km/h in the low to mid sixes.
The standard model comes with ventilated discs at the front and solid discs at the rear, while the Japanese carmaker also offers ventilated disc brakes at the front and rear for the top-spec package. The suspension features MacPherson struts at the front and double wishbones at the rear.
As for the exterior, the GT 86 will come with a dual exhaust, a rear spoiler and an '86 piston' logo on the fenders. The 17 inch alloy wheels are wrapped in 215/40R18 tyres at the front axle and 225/40R18 at the rear. Subaru stated that its BRZ will have a distinguished and different appearance compared to its Toyota brother.
The interior comes in a carbon-effect trim, all-black roof lining, red stitching on the upholstery, aviation-style rocker switchgear and lightweight, aluminium pedals. The steering wheels measures only 365mm, the smallest yet fitted to a Toyota and has been finished in buckskin finish. The front seats has been designed to offer great comfort.
The Toyota GT-86 will go on sale in the summer of 2012.