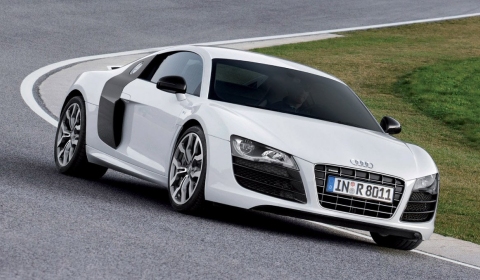 The next generation of the Audi R8 is scheduled for 2014, but the Germans already announced the new R8 will become the new standard in its class.
According to Dutch magazine Autovisie, Audi has committed itself to built the lightest and stiffest car in its class. To achieve this ambition, the Ingolstadt-based car maker will construct the next generation R8 entirely out of aluminium and carbon fiber.
Whereas the current R8 weighs 1,560kg, the new Porsche 911 weighs only 1,400kg. So Audi is planning to scrap at least 150kg of weight of the future R8 compared to the current model. The aluminium space-frame will weigh 200kg compared to the 222kg of the current R8. Also other components of the car, like electronics, suspension and the drive-train are set to loose weight.
Just like the Porsche 911, the design of the next generation Audi R8 will be an evolution of the current model. The first R8 which will be offered in 2014 is the V10 powered coupé. An Audi R8 roadster and a V8 powered R8 are scheduled as well.